Absolute Access Sliding Gates gives you complete control
Absolute Access Sliding Gates gives you complete control over access to your business, creating a secure and safer entry point. It's our job to make sure the design and installation of our Sliding Gates fit your needs exactly.
Cantilever Sliding Gates are space-saving so are great for restricted sites and those with heavier traffic. Allowing you to control and restrict pedestrian and vehicle access whilst securing and protecting the perimeter.
Speak to our security Sliding Gate specialists today on 0113 281 3511 to book a free site visit or send us a message via our contact form.
Commercial Sliding Gate Technical Specification
We do a free site visit and recommend the best value Security Gate to fit your requirements. We can improve/move your fence line for your Sliding Gate to prevent queuing off a busy road, by adjusting the entrance; to reduce the likelihood of theft and trespassing. Our UK manufactured Gates control and restrict vehicle access, securing and protecting the perimeter of your site. Why choose Absolute Access for Sliding Gates?
24-Hour support
Durable to withstand British weather
Material options: timber, steel or aluminium.
Span from 2m to 24m wide & height of up to 3m
No open/close limits for high levels of traffic, 100% rating
Can match your RAL brand colours inc logo for a professional look
Infill style: anti-climb 358 mesh, vertical bars, palisade infills, solid infills.
Absolute Access takes the time to discuss your requirements and give you advice on the best Sliding Gates design for your site. We provide full civil engineering works to prepare your site for installation and our engineers are always on hand to provide any assistance you may need.
Downloads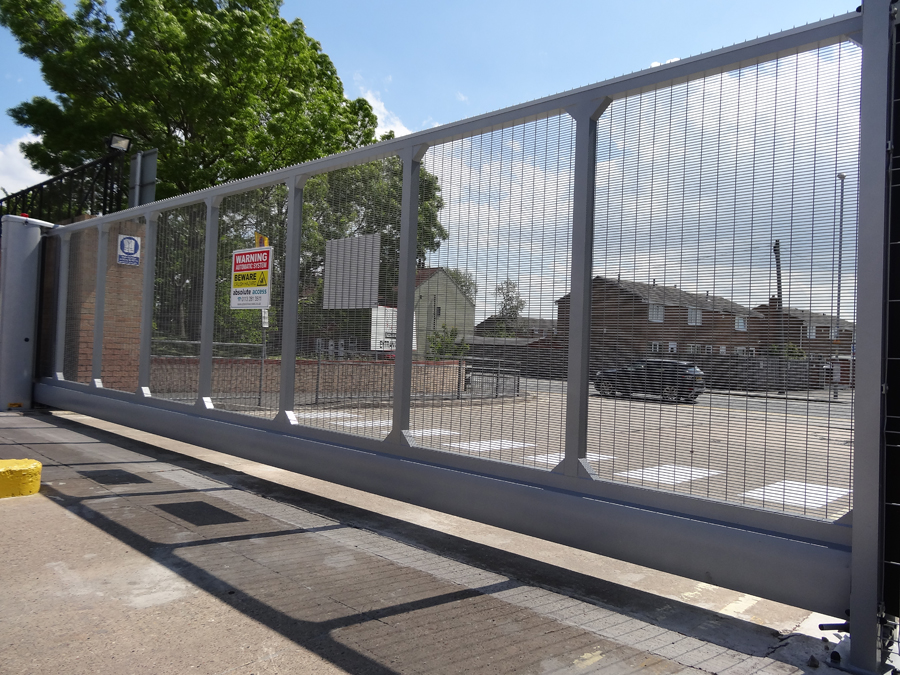 2.4m High Grey Sliding Gate
Anti Climb 358 mesh infill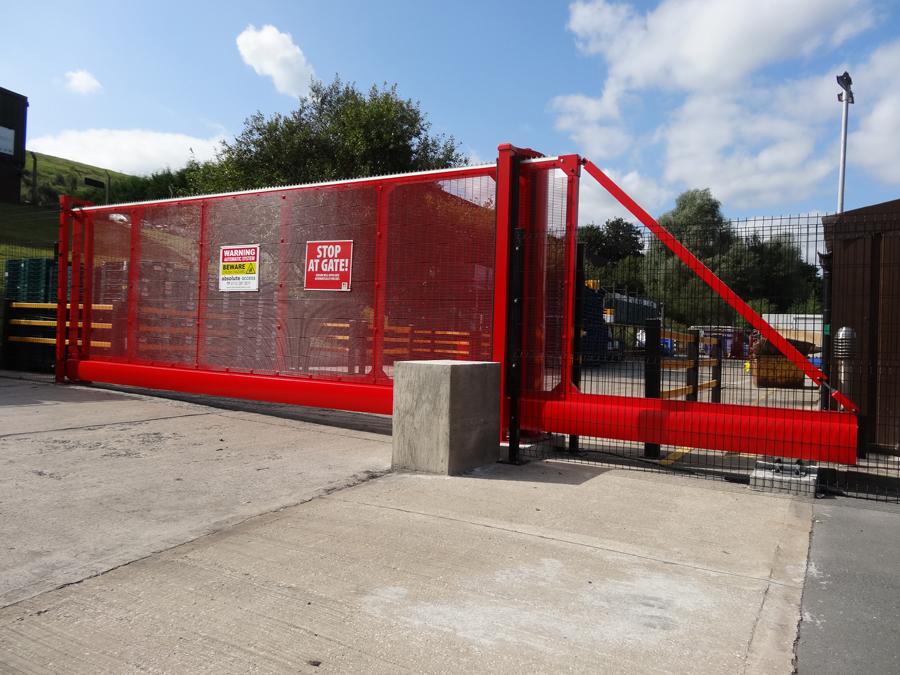 2.4m High Red Sliding Gate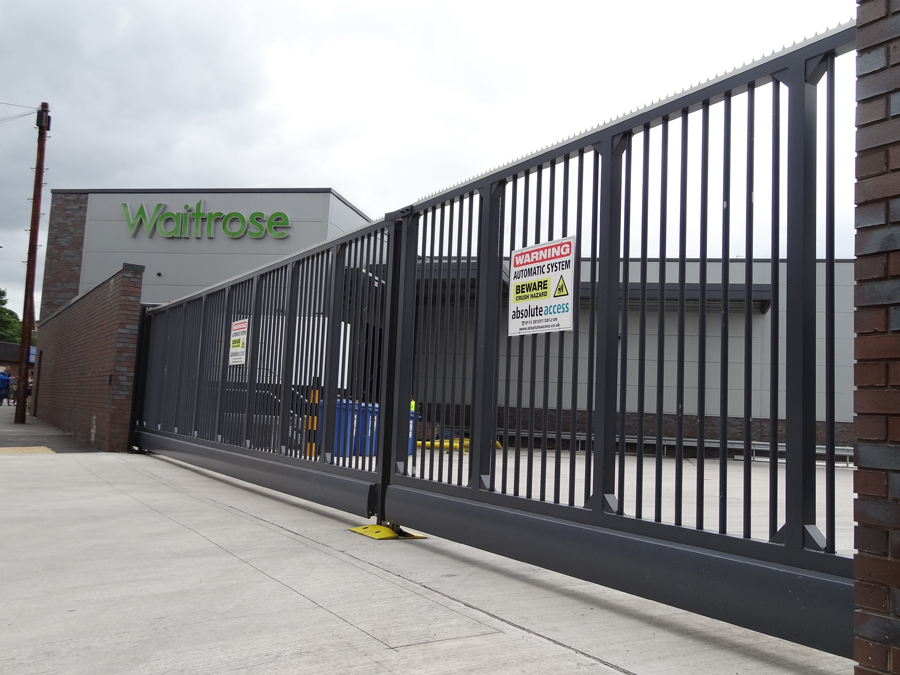 Vertical Bar infill
Solid Infill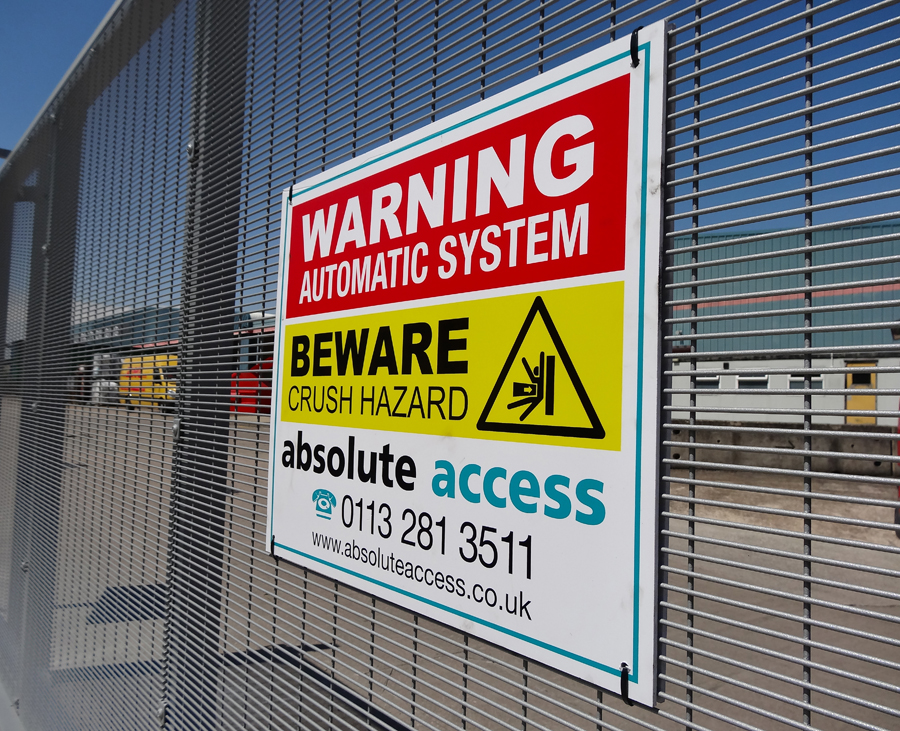 Anti Climb Mesh and Safety Signage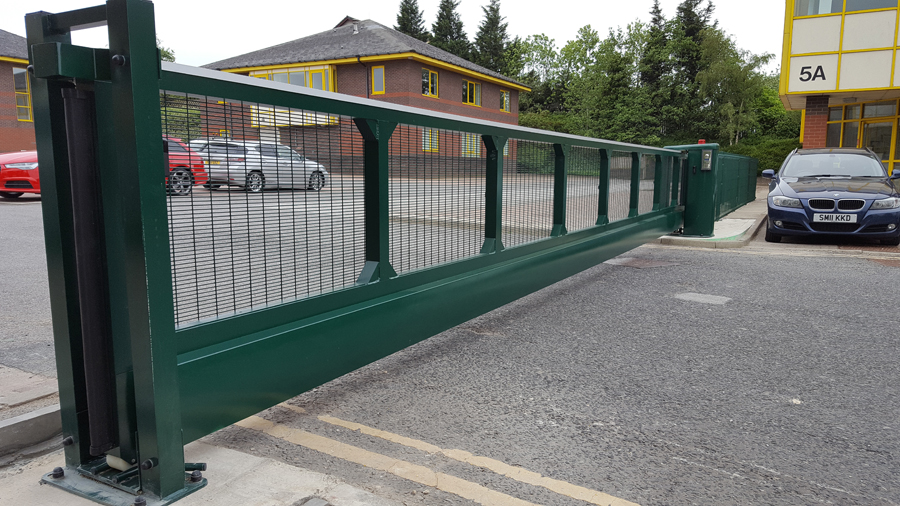 1.2m High Green Sliding Gate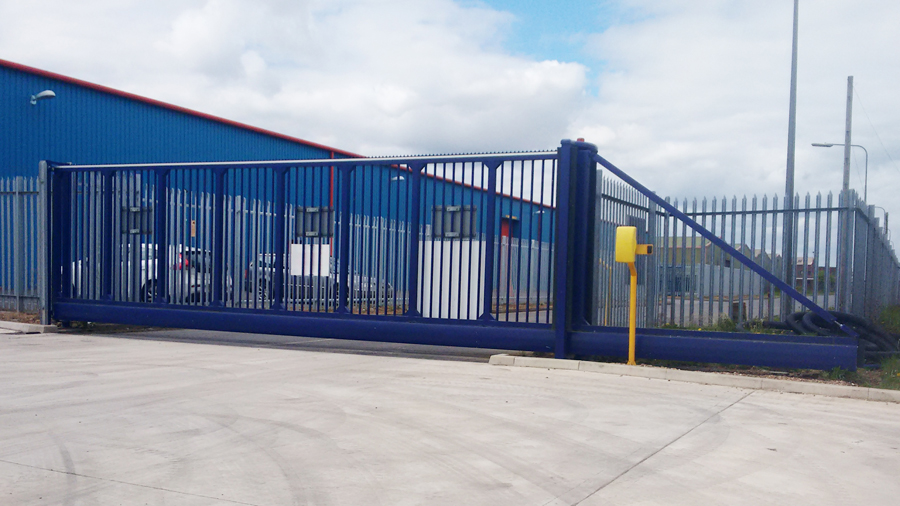 2.4m High Blue Sliding Gate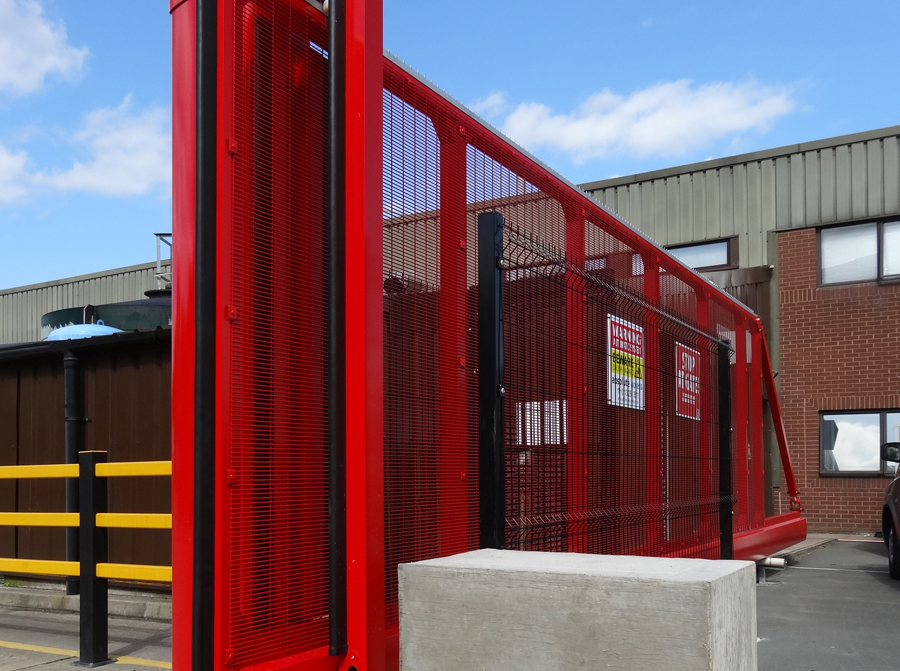 Safety Edges
CE plate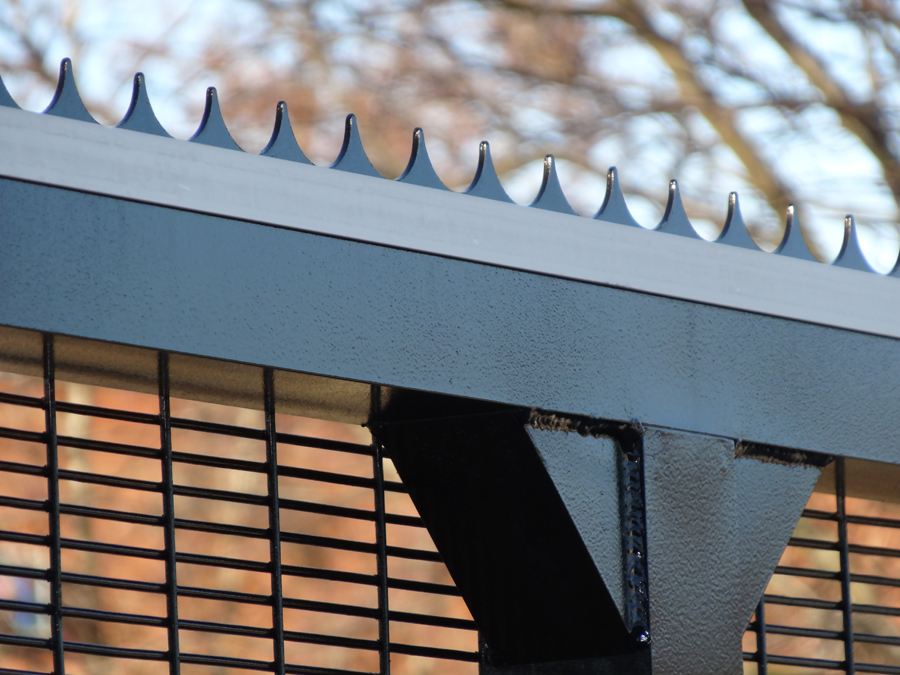 Anti Climb Spikes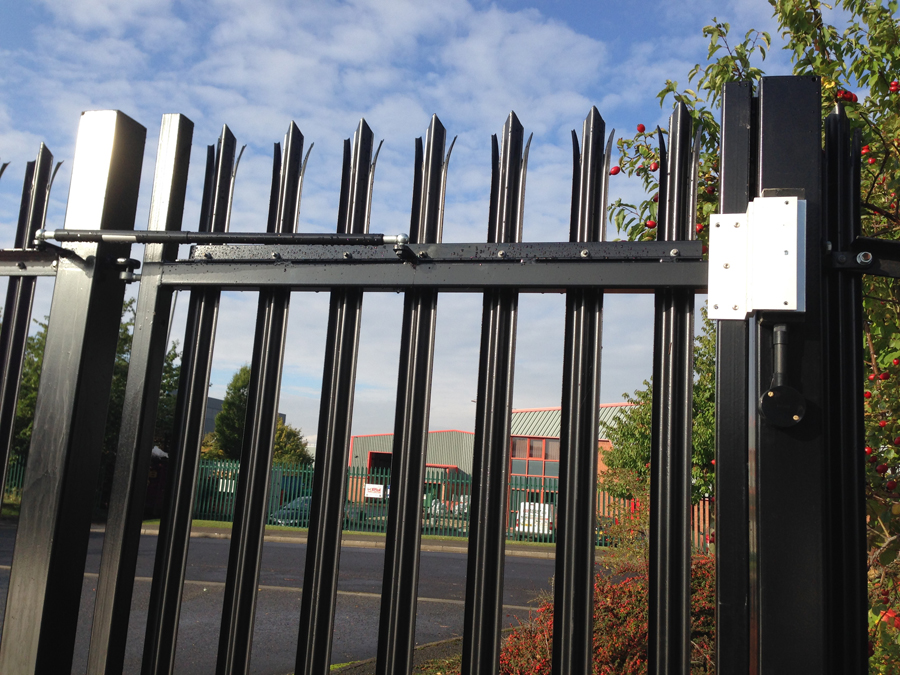 Optional Pedestrian Gate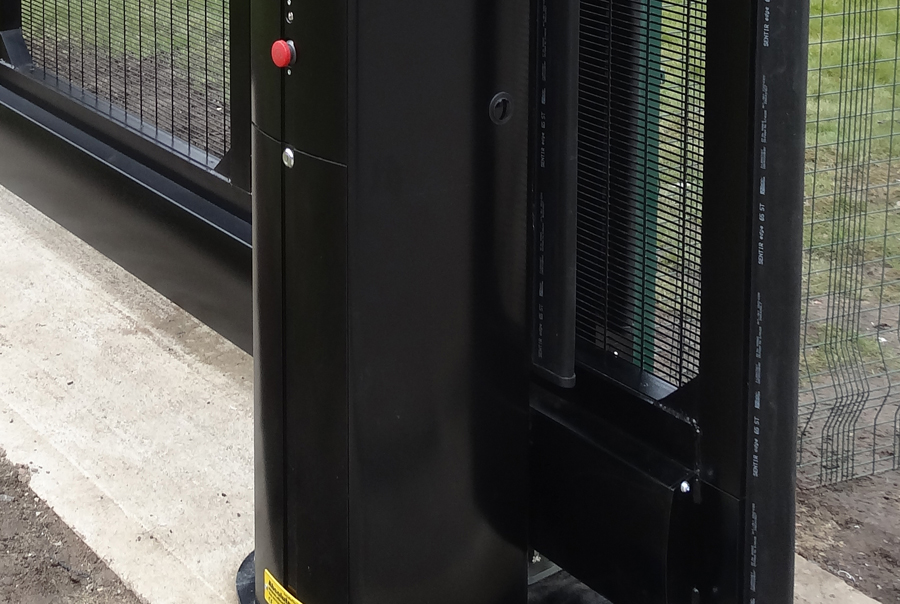 Emergency Stop button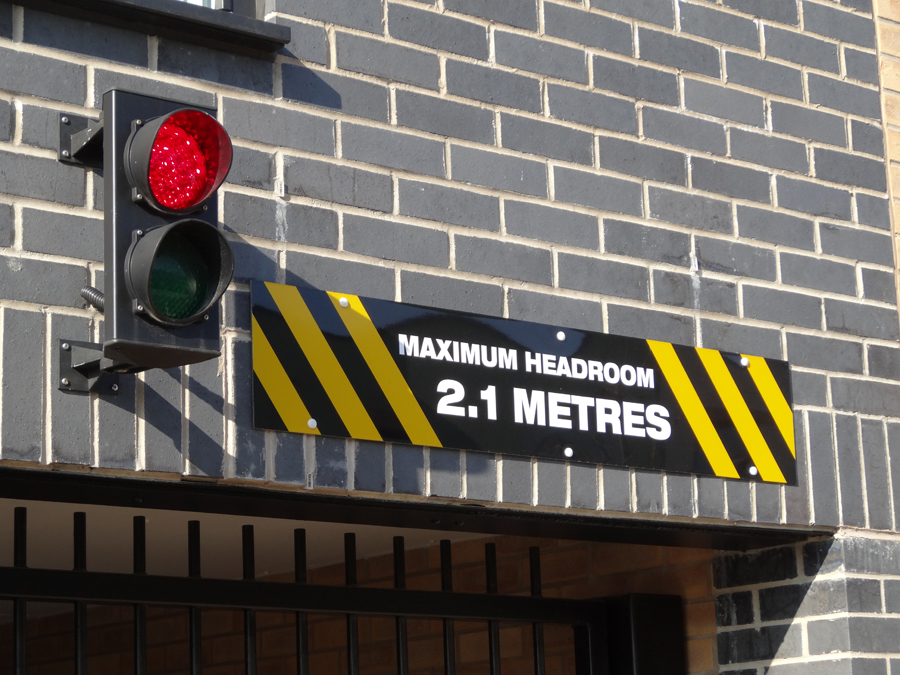 Traffic Lights
Industrial Sliding Gate Design and Safety
At Absolute Access we take safety seriously, from large to even the most complex sites, all of our Sliding Gates are manufactured and installed to a high-quality standard, ensuring they operate effectively and safely; offering a bespoke Sliding Gate design service, making sure that you get exactly what you want.
Safety Features: Photocells, Dual-sided and end safety edges which instantly stop the Gate operating if it detects an obstruction to reduce trapping; also, an emergency stop button, manual override and strobe lights.
Accessories: Traffic lights, warning lights, stop and no entry signs and safety loops.
Full installation and training in compliance with the Machinery Directive 2006/46/EC and BS/EN 12453 with a CE mark.
Anti-climb spikes to prevent ability to climb over – visual and physical deterrent along the top of your Gate.
Optional Separate Pedestrian Gate available.
If you have any further questions with regards to our sliding gate design process, then please don't hesitate to get in touch.
Sliding Gate Access Control
Integrating Access Control to your Sliding Gate adds additional security to your business. When Access Control is paired with an Electric Sliding Gate it prevents the need for staff and prevents delay/blocking a road, saving time and money. It allows those already authorised to enter and prevents anyone not registered/not knowing the code from gaining access on to the site without approval. Access control that compliments Sliding Gates includes:
Intercoms
Automatic number plate recognition (ANPR)
Keypads and fobs
Traffic Islands
Proximity Readers
Radio receivers/openers
Long Range Microphone/Hands-Free Intercom
Automatic Ground Loops which opens the Gate when a vehicle passes over
If you'd like to know more about what type of Access Control we offer or you want to add Access Control to your Sliding Gates, please visit our Access Control page or call us on 0113 281 3511.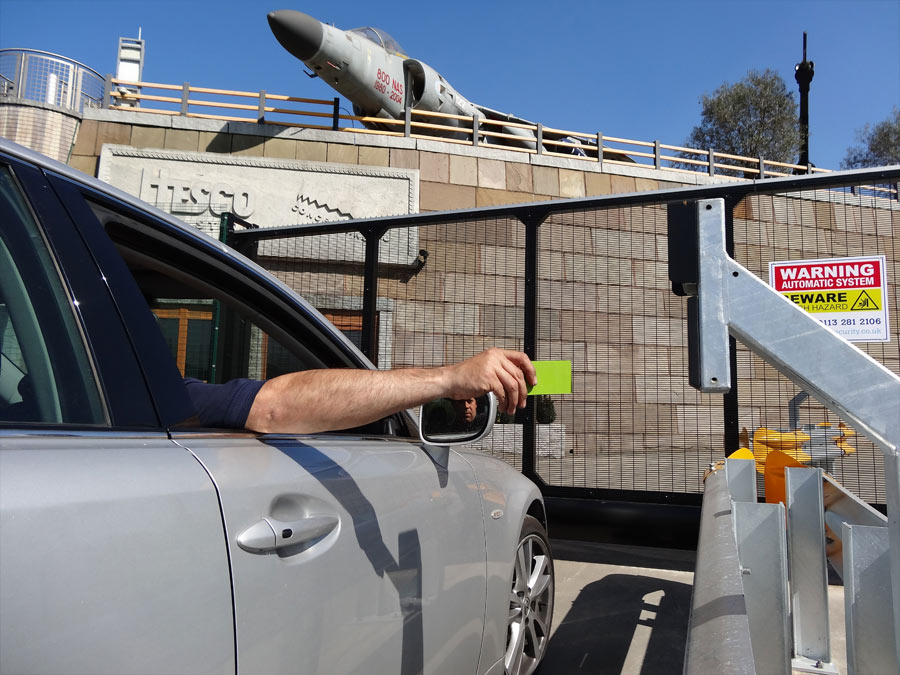 Sliding Gate access control fobs and cards
Sliding Gate Aftercare
We offer on-going Sliding Gates aftercare and maintenance packages. With a network of technicians dotted across the UK, we can attend to any issues and call in for a periodic safety check at your convenience. It is the law to comply with the Machinery Directive 2006/46/EC and BS/EN 12453; which includes having your Sliding Gates maintained regularly by trained individuals. For more information on our aftercare packages please visit our aftercare page or call our security experts on 0113 281 3511.