Cantilever Gates in Leeds for O'Connor Utilities
O'Connor Utilities asked for Absolute Access to come and take a look at their entrance and recommend what to do, they received a lot of unexpected visitors using their entrance as a turning circle. They felt the only way to solve this problem were Entry and Exit Gates, however, were worried how this may cause a problem to passing traffic, as their Vans and HGV's would be sticking off onto the main road. O'Connor Utilities is a utility contractor established in 1994. They provide telecommunications, water, gas and electricity. Their reputation is known for their quality, experienced teams and always exceeding client's expectations.
Entry and Exit Gates Leeds
Open entrances are easily taken for granted, it is great for staff and deliveries to gain a quick and easy entrance but also opens you up to unwanted visitors. Entry and Exit Gates restrict but keep a flow of traffic by allowing only those registered to your Access Control system to enter site, whilst others have to press the Intercom and tell the operator who they are to gain access. We suggested 2 Automatic Sliding Gates, set back from the main road, allowing enough space for larger vehicles to queue, both the entrance and exit Gates were colour matched in the same Red as the company logo. Alongside this, we installed a manual Pedestrian Gate and Paxton Net2 Access Control. Both the Entry and Exit Gates were 2.4m high and a 7m width each; installed with a 358-mesh infill and anti-climb spikes to prevent access over the gate. The Entry and Exit Gates included Safety Edges, photocells, flashing warning lights and safety warning signs as standard, to reduce the likelihood of the Gates becoming a trapping hazard.
Interested in Entry and Exit Gates? Want to have control over who you let into your site? Call us on 0113 281 3511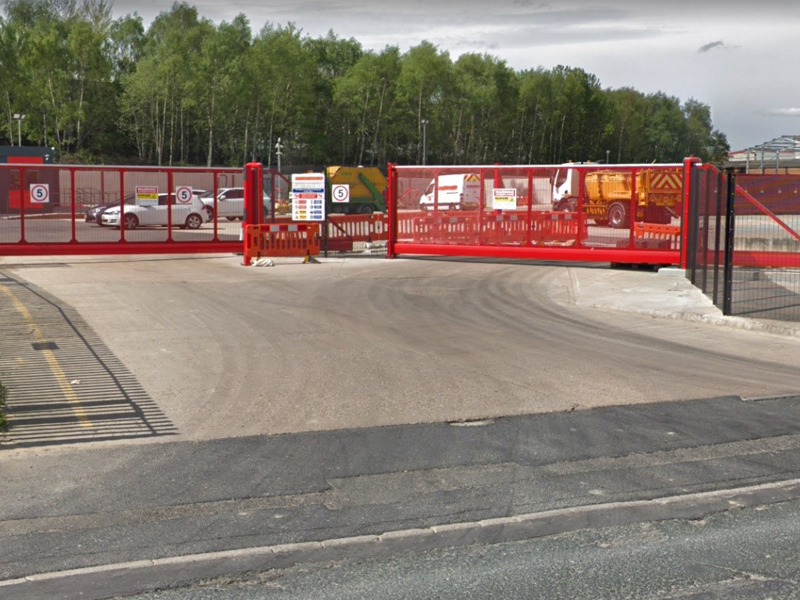 What O'Connor said about Absolute Access
""We had vehicles coming into our site from the main road to turn around, we needed it to stop. Absolute Access gave us the confidence we could move our entrance and restrict who could come beyond the Sliding Gates."